:
For a start, get a recording device. The microphone input in computers may be used, but a multichannel recording device is needed to localize or separate sounds. (see the chapter on devices in the HARK document in details).
From here, it is assumed that the device used is ALSA. Try to run the following commands: arecord -l A list of connected devices will then be displayed:

card 0: Intel [HDA Intel], device 0: AD198x Analog [AD198x Analog]
  Subdevices: 2/2
  Subdevice #0: subdevice #0
  Subdevice #1: subdevice #1
card 1: ** [***], device 0: USB Audio [USB Audio]
  Subdevices: 1/1
  Subdevice #0: subdevice #0

Find the name of the device from the list. In case the device is not on the list, it means that the OS does not recognize the device. If the device is on the list, the device name will be specified by two numbers, the card number and the subdevice number.
For example, if the device used is USB Audio as shown above, the card number is #1 and the subdevice number is #0. In this case the device name will be plughw:1,0. If the device is unknown, try plughw:0,0.
Devices that supports DirectSound and ASIO can be used in Windows. A list of devices that can be used in HARK can be checked through: [Start]   – [Programs]   – [HARK]   – [Sound Device List]
It can also be checked by executing the following in the command prompt:
SoundDeviList
For devices that support DirectSound, the parameters of AudioStreamFromMic DEVICETYPE should be set to "DS" and DEVICE to the device name. Although multibyte string device name is not supported, a part of the device name is searched so it is possible to input only a part of the device name.
For devices that supports ASIO, install the "ASIO Plugin for HARK" and use the AudioStreamFromASIO node. Similar to the AudioStreamFromMic, input the device name in the parameter.
If the AudioStreamFromASIO is not found in the Node List of HARK Designer, select the libasio-plugin.def from the packages in [Preference] – [Packages].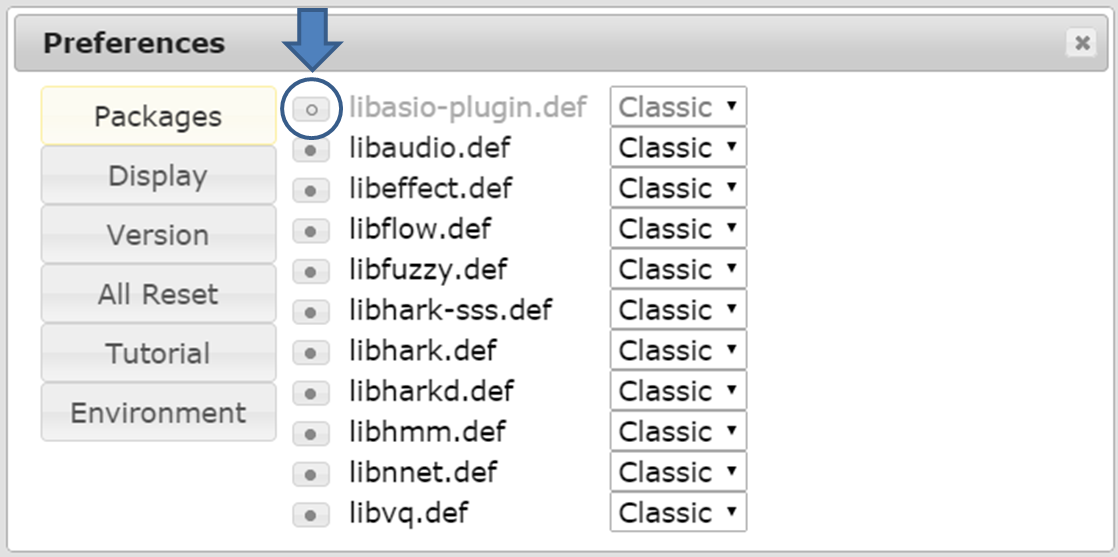 :
Next is to build a recording network using HARK-Designer. The topology of the network is the same as shown in Fig.2.2 and 2.3. Although you can leave almost all parameters to their default settings, it is also possible to change the parameters as shown in 2.1.
Check the specifications of the device to determine the number of channels and the sampling frequency. Identifying the device name is explained in the section above. The number of recording frames will depend on the recording time of the sound. This can be calculated using the equation:
$\displaystyle Recording~ time = (LENGTH + (frames- 1) * ADVANCE)/SAMPLING\_ RATE $
(

1

)
where the uppercase variables are the parameters of AudioStreamFromMic . For example, if the recording time is 5 seconds at 16kHz sampling frequency with the LENGTH and ADVANCE set to default, the number of frames will be 498 because:
$\displaystyle 5[sec] $
$\displaystyle = $
$\displaystyle (512+(frames - 1) * 160)/16000 $
(

2

)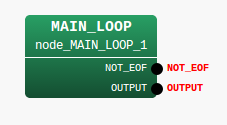 | | | | |
| --- | --- | --- | --- |
| Node name | Parameter name | Type | Meaning |
| Iterate | MAX_ITER | | Number of frames to record(498) |
| | CHANNEL_COUNT | | Number of channels you use(8) |
| | SAMPLING_RATE | | Sampling rate(16000) |
| | DEVICETYPE | | Type of device(ALSA) |
| | DEVICE | | Device name(plughw:0,0) |