6.2.17 SaveSourceLocation
6.2.17.1 Outline of the node
This nodes saves source localization results.
6.2.17.2 Necessary file
No files are required
6.2.17.3 Usage
When to use
This node is used when a localization result is saved in a file for analysis of the localization result later. To read the saved file, the LoadSourceLocation node is used.
Typical connection
Figure 6.41 shows a typical connection example. The network shown in the example saves fixed localization results in files. For the save format, see . Moreover, this node can be connected to nodes that output localization results (e.g. LocalizeMUSIC , ConstantLocalization  or LoadSourceLocation ).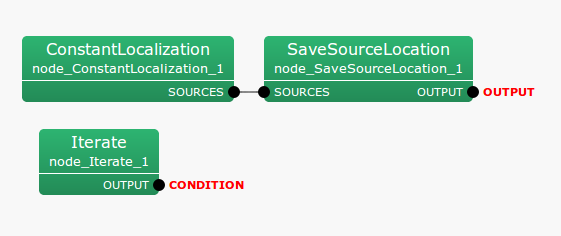 6.2.17.4 Input-output and property of the node
Input
SOURCES

: Vector<ObjectRef>  type. Source localization results are input. ObjectRef  type refers to Source  type data.
Output
OUTPUT

: Vector<ObjectRef>  type. Inputs (Source type) are output without modification.
Parameter
FILENAME

: string  type. No default values.
| | | | | |
| --- | --- | --- | --- | --- |
| Parameter name | Type | Default value | Unit | Description |
| FILENAME | | | | Name of the file that the user wishes to save |
6.2.17.5 Details of the nodes
Typical error messages and their reasons
FILENAME is empty

Node parameter FILENAME is not assigned.

Can't open file name

File open for write failed because, for example, the file is not writable.