Overview¶
HARK Designer is a web browser based graphical user interface for building a network for a robot audition software

(HRI-JP Audition for Robots with Kyoto university).
Using HARK Designer, you can do the following things:
construct a network that represents a data flow of a robot audition process
import a .n file build by flowdesigner
execute a network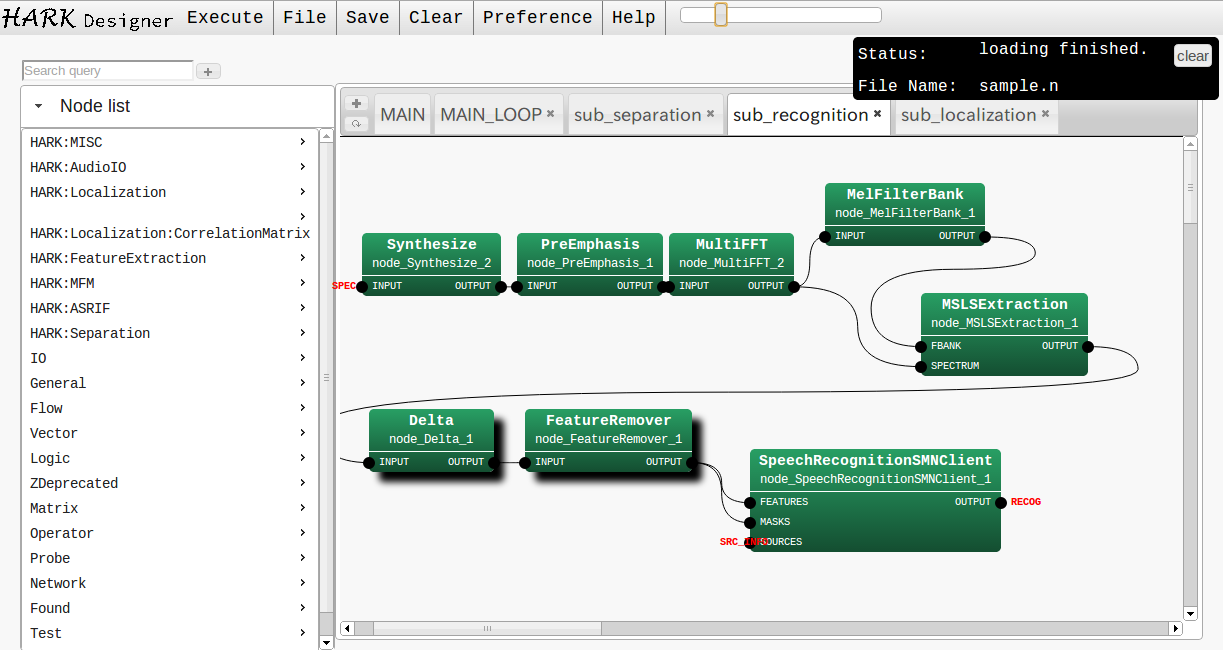 Getting Started¶
Dependent software¶
HARK Designer depends on software. Please install before you install HARK Designer
node.js (An application server)
graphviz (For auto re-organizatoin)

For Windows users download and install the latest version from http://www.graphviz.org/
For Ubuntu users

sudo

apt-get

install

graphviz

Google Chrome

Currently, HARK Designer supports the latest version of Google Chrome. Download and install from https://www.google.com/chrome
Note that HARK Designer also works basically both on Firefox and Safari.
Step 1: Open the HARK Designer¶
For Linux users¶
On the terminal, run hark_designer. Then, chrome browser will be opened immediately.
For Windows users¶
After you installed the HARK Designer, you will see the icon of HARK Designer on your desktop. When you double-click it, then
node.js application runs, and
Google Chrome opens and access to http://localhost:3000.
You will see a web page as shown in the following figure.
Step 2: Add Nodes¶
First, you need to add nodes. In this case, add Constant and InputStream, which are both in General category.
You have two ways to add these nodes:
On the Node list on the left side of the window, click General and click Constant, then, click General and InputStream.
Type the name Constant or InputStream to the input box above the Node list. You can incrementally search nodes. You can select a node to add by clicking or pressing arrow keys and Enter key.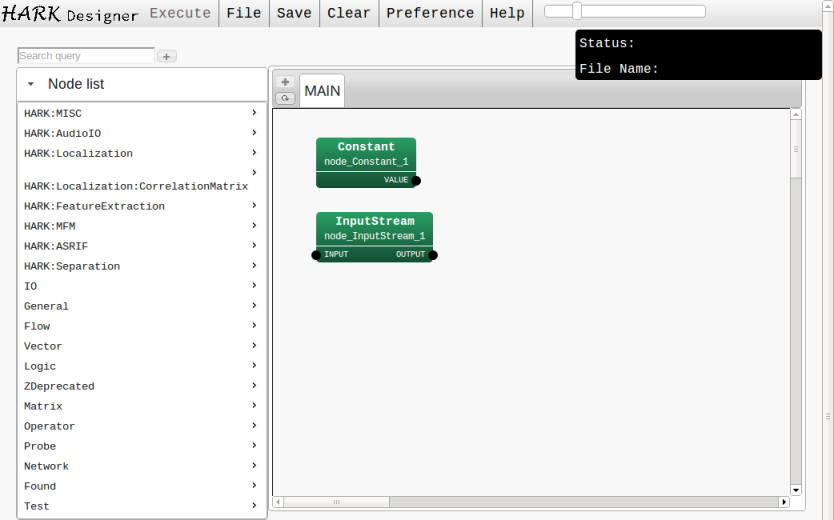 Step 3: Connect Nodes¶
Then, connect the two nodes. Drag the output terminal VALUE of Constant, and drop at the input terminal INPUT of InputStream.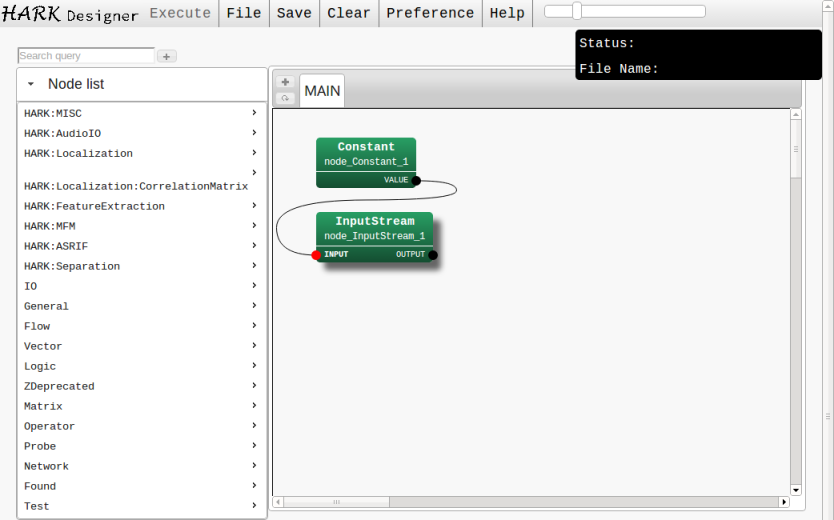 Step 4: Add a New Sheet¶
Let's add a new sheet, which contains a set of nodes. Click the add sheet button next to MAIN network (marked as red circle in the figure), then, a dialog will appear. Input a name of your new sheet and select a type. In this case, the name is LOOP0 and the type is iterator.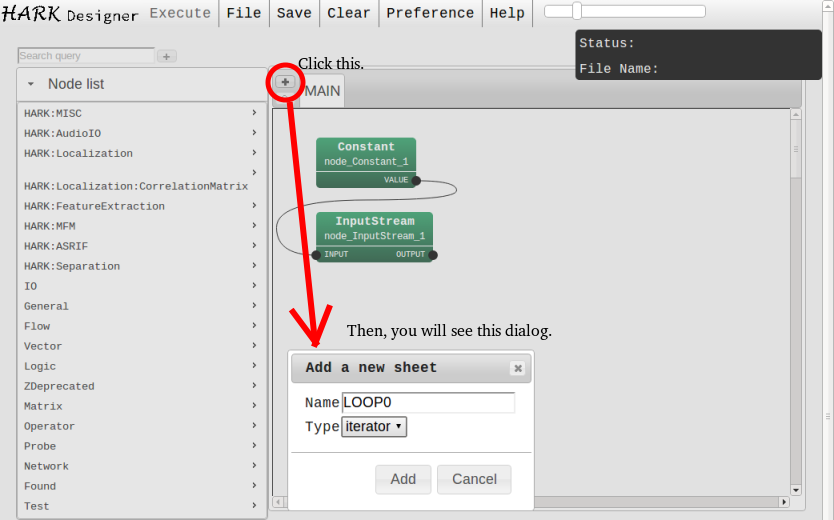 Step 5: Add and Connect Nodes in the New Sheet¶
Similar to step 1, add five nodes: AudioStreamFromMic, MultiFFT, LocalizeMUSIC, SourceTracker, and DisplayLocalization on the iterator sheet LOOP0. Then, connect them as shown in the figure.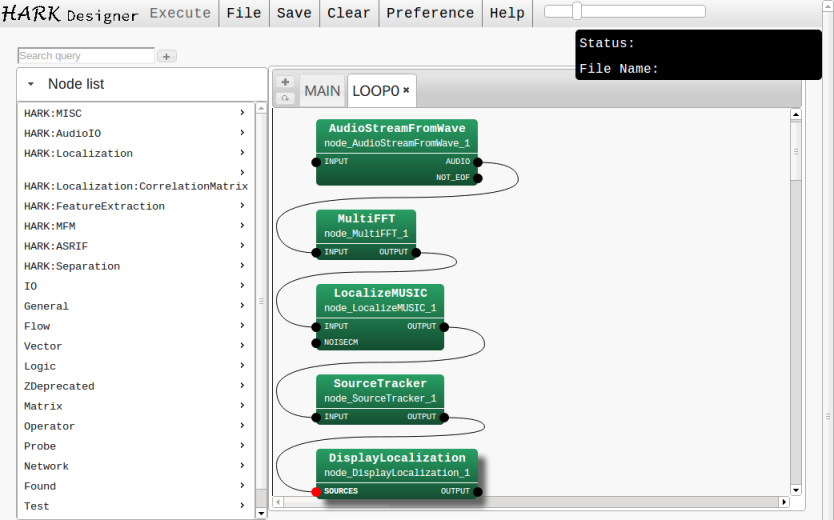 Step 6: Automatic Alignment¶
Let's try some features of HARK Designer. The first one is "automatic alignment", that automatically changes the orders of nodes. Click a button shown in the figure. Then, HARK Designer automatically realign the node positions. Use it if your network gets messy.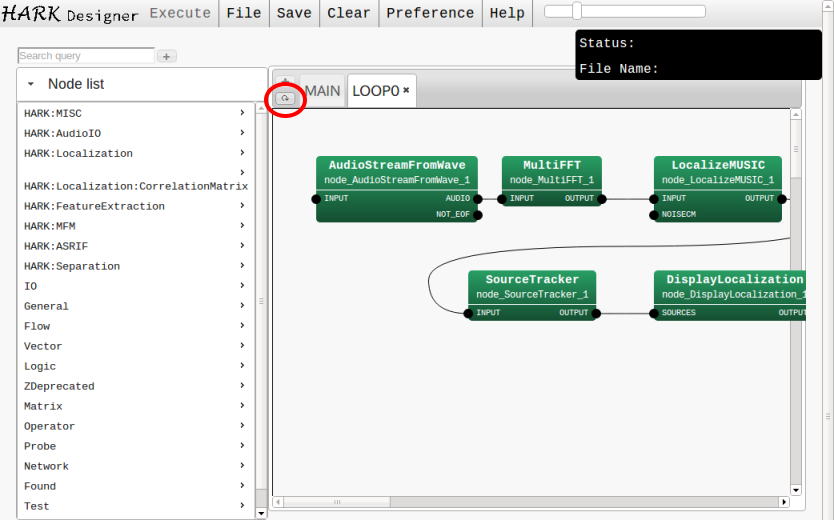 Step 7: Hide Node List¶
Another feature of HARK Designer is "hiding a node list". Click the button named "Hide list" next to the input box for node search. Then, you can hide the list and enlarge the area of the network.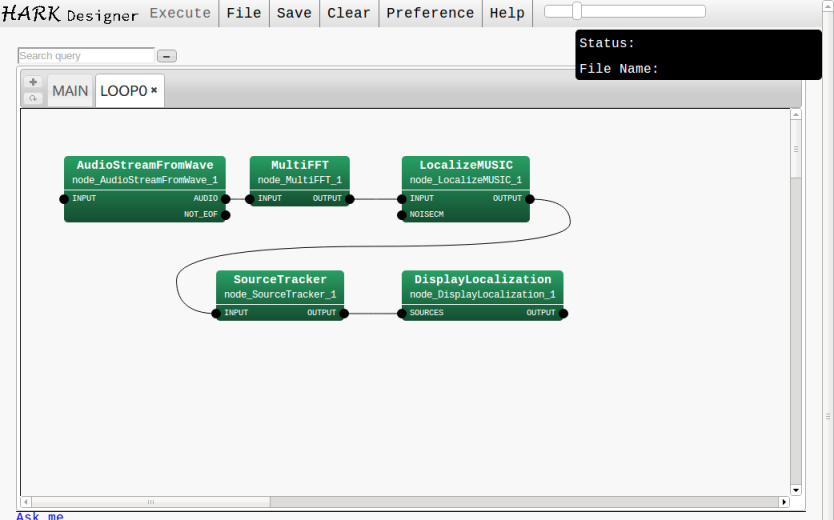 Step 8: Configure Parameters¶
To configure the parameters of the node, you can open the parameter dialog by (1) double-clicking the node or (2) right click the node and select "Property". On the dialog, you can select the type and value of the parameters and click OK to apply the changes.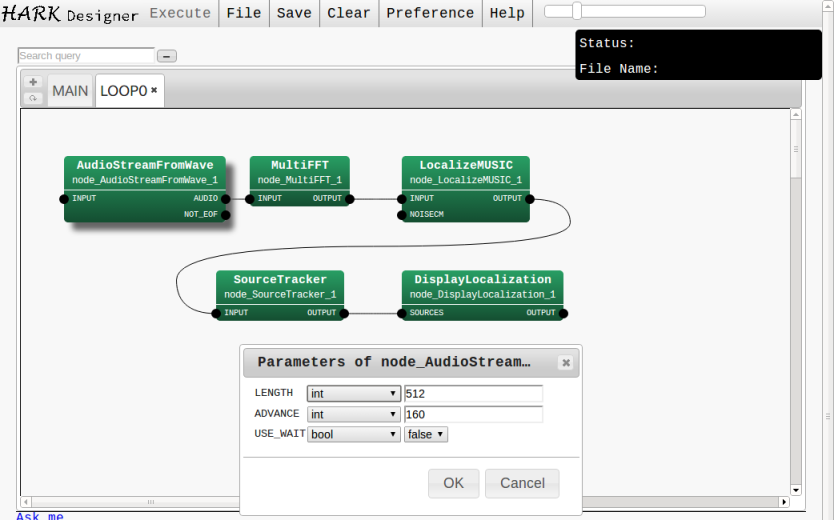 Step 9: Set Terminal Roles¶
Then, set the terminals roles. Right-click a terminal that you want to give a role, and select from a context menu.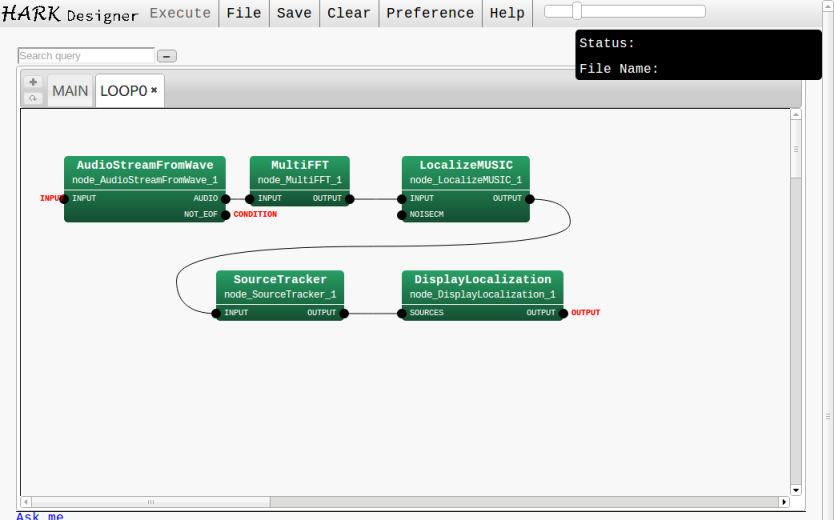 Descriptions of HARK Designer Components¶
This section describes the key components of HARK Designer, Node, Links, Sheet, and Terminal Role. A network, that is a program code in HARK, consists of these components.
Operations of HARK Designer¶